RAZOR-X 550 Nitrile coated Cut Resistant Level 5 Glove Size 11 - Esko
Please note that due to high volumes couriers are taking longer than usual to deliver.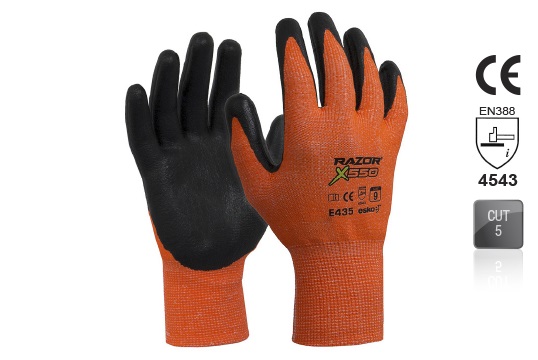 RAZOR X550 Glove, HPPE Cut Resistance Level 5, Hi-Viz Orange, Nitrile coating, Sizes 7 - 11.

- NEW Gritted Nitrile palm
- Knitted from high-performance HPPE combined with stretchy spandex fibres
- Certified to protect to European Standards cut level 5
- Hi-vis polyester glass fibre knitted liner with nitrile coating.
- Razor X550 combines cut protection with comfort, flexibility and dexterity.
- Cut level 5 protection with superior grip.
- High dexterity and breathability, performs in dry and wet conditions.
- High performance fiber blend knit shell.
- Sizes: 7 - 11.