TOUCHLINE' '3/4Back' Nitrile 3/4 dip Foam coat with dots Size 10 - Esko
Please note that due to high volumes couriers are taking longer than usual to deliver.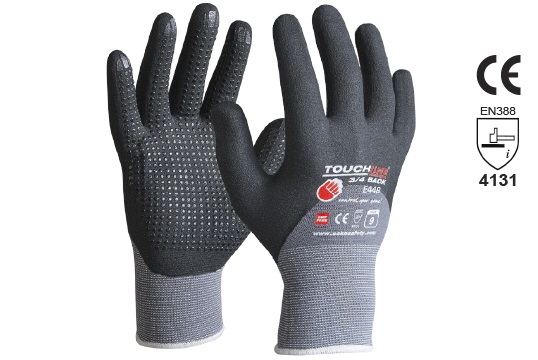 TOUCHLINE - 3/4 BACK Glove polyamide / spandex, with micro nitrile foam full coating plus pvc micro dots

- Seamless composite shell knitted from strong polyamide / stretchy spandex fibres
- Incorporates the latest U3 technology (15 gauge), and 3/4 coated with nitrile foam.
- Micro dots for greater grip, precision handling and outstanding durability.
- New nitrile foam coating technology provides excellent dexterity and a form fit for reduced fatigue, maximum comfort and control.
- Sizes: 7 - 11.