Nitrile Black Premium PowderFree Large - TGC
Due to a world wide shortage of gloves prices and stock levels are constantly changing, please contact us to enquire or to place an order.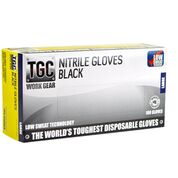 The Glove Company® revolutionised the hand safety PPE market in Australia and NZ, creating the original Black Nitrile Disposable Glove, an industry first.

Our unique formulation set the new standard in Nitrile glove performance and is still the strongest, toughest and most chemically resistant glove material technology available on the market.

Our TGC® Black Nitrile gloves legendary extreme strength and resistant black colouring enabled the transformation of the Automotive industry.

TGC® Black Nitrile disposable gloves are our most advanced safety disposable gloves. Our TGC' Black Nitrile disposable gloves are the only black disposable glove certified for NATO use by the defence forces.

Our TGC® Black Nitrile Gloves are enhanced with the latest natural low sweat technology, giving you complete piece of mind when it comes to your hand care.

So if your hands are important to you and you want the best protection, then you've just found the perfect glove!

Carton 10x100 gloves (1000)
TGC® Black Nitrile Glove Benefits
Accreditations and Third-Party Ratings
Meeting the highest of accreditations for strength, comfort, safety and usability amongst the finest protective equipment available. Including NATO certification for use by the defence forces 
and aviation industry worldwide.
Superior Chemical Resistance
Resistance to over 140 commonly used chemicals, due to the glove's TGC® nitrile construction. 
See the chemical guide download link below for the appropriate chemical uses of this glove.
A Mechanic's Best Friend
There is no other tool in your toolbox that is as dedicated to your safety and protection 
as your handy box of TGC gloves.
Protection and Comfort
TGC® Black Nitrile gloves also feature an incredible resistance to breakage and puncture, 
superior chemical resistance and unsurpassed comfort for extended wearing times.
Low Sweat Technology
A modified pH matching that-of-a healthy skin's natural pH levels is a benefit built into 
the inner surface of the glove that allows efficient use of the glove for a longer time

Applications
Black Nitrile Gloves are suitable for all types of industries:
Automotive - Paint/Panel, Mechanical Workshops, Detailing, Engine & Transmissions, Diesel Mechanics 
and Tyre Fitting

Aviation and Defence

Oils, Lubricants, Fuel Handling, Hydraulic Repairs & Maintenance• Commercial / Domestic cleaning and Hygiene

Material Handling, Steel and Metal Manufacturing, Construction and Painting

DIY and Home Maintenance

Hospitality and Food Manufacturing, Dairy

Other eg Hairdressing, Tattoo industry, Bio-Security, Laboratories
Benefits
100% Nitrile
Unmatched Strength
High Puncture Resistance
Superior Chemical Resistance with 140+ resistance on chemicals
Unsurpassed Comfort for extended wear
Latex Free & Vinyl Free
Low Sweat Technology
NSN (Nato) Codification
Colour:  Black