BLACK BULL' Black Heavy Duty Sandy Nitrile Dip Size 11 - Esko
Due to a world wide shortage of gloves prices and stock levels are constantly changing, please contact us to enquire or to place an order.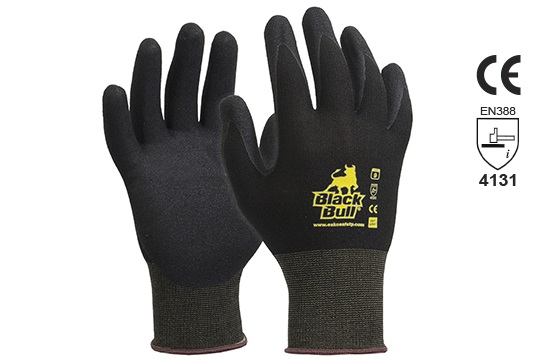 Esko 'BLACK BULL' Glove, Black polyamide liner with black sandy nitrile coating

- Black 13 gauge seamless polyamide / spandex liner for increased comfort and breathability.
- Patented multi-coated foam nitrile coating creates a spongy, abrasion-resistant but flexible barrier that repels liquids to provide an excellent wet or dry grip.
- Highly dexterous, with form fitting liner knitted with the latest U3 technology.
- Sizes: 7 - 12.